Temecula Valley Barrel Tasting Day Two | Temecula Wine Events
If you read Day One of the Temecula Valley Barrel Tasting in my previous article HERE, then you may have heard that Temecula Valley Winegrowers Association is celebrating its 50th year celebration. In celebration, Temecula Valley is planning several events throughout the year, along with the annual Temecula Valley Barrel Tasting that occurred in January. On Sunday Day two, we visited Fazeli Cellars, Robert Renzoni, Masia De La Vinya, Cougar Vineyards, Lorenzi Estate and Hart Winery. Below are the pictures, a little information about each winery I visited and some of the food and wine pairings of Sunday's event. Click HERE to read DAY One of the Temecula Valley Barrel Tasting.
Sunday Day 2
We started our second day of the Barrel Tasting at Fazeli Cellars. Fazeli Cellars, is located on the De Portola Trail nestled in between the rolling hills and valleys. Perisan traditions and modern Teals details guided the family's inspiration and it's shown throughout the winery. During the tasting event, Fazeli served the 2009 Mehregan, a blend of Shitraz, Grenache and Mourvedre. They also served the 2009 Yalda, a blend of Grenache and Shiraz. The barrel sample was the 2015 Shiraz, paired with Lamb Ghormeh over Basmati Rice. Click here to read my last article on Fazeli Cellars and to see more pictures of this property. Open daily, 11am- 6pm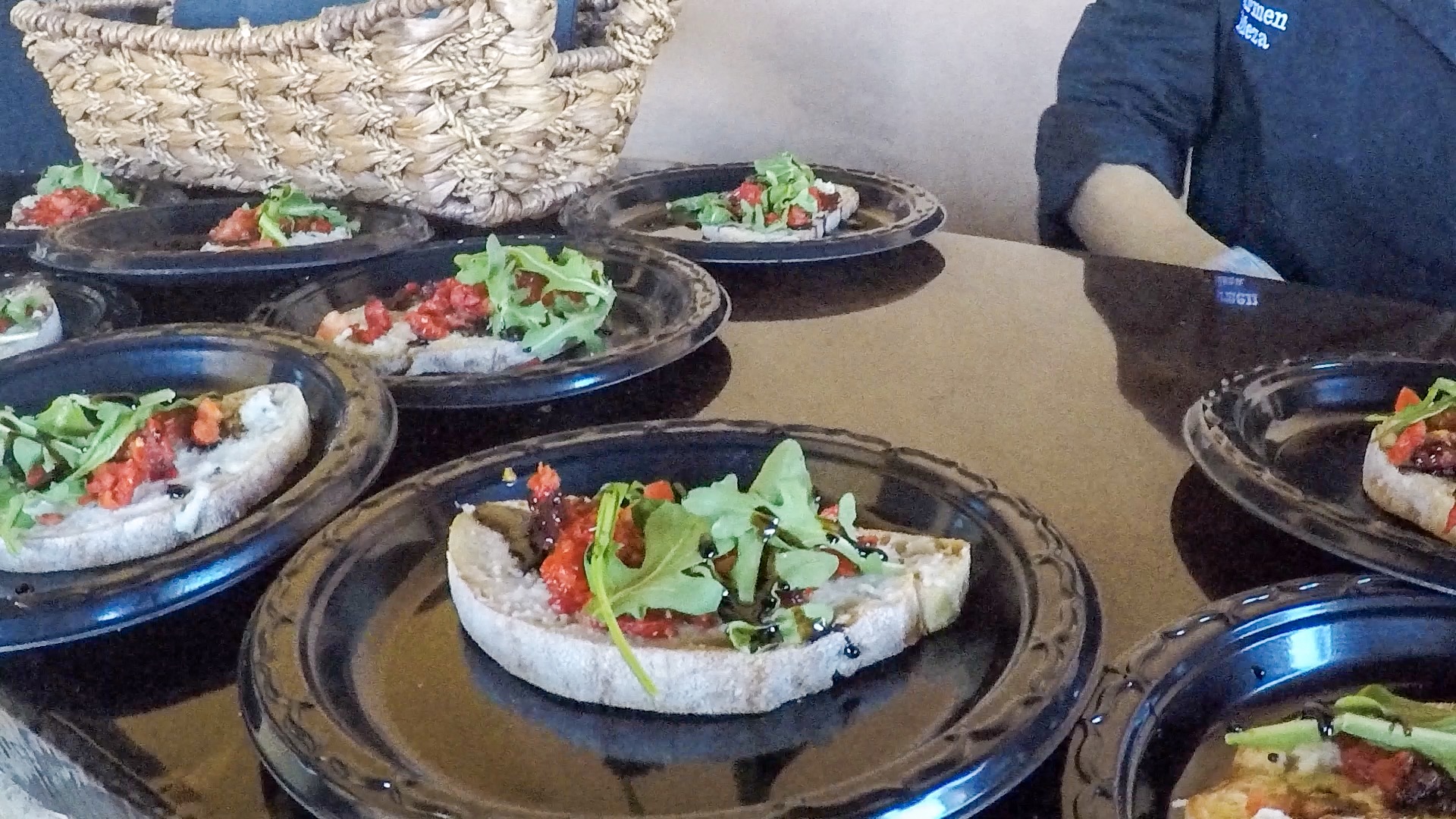 Right next door is Robert Renzoni, a beautiful Tuscan villa that overlooks the valley and the Deportola Trail. This picturesque winery makes you feel like you're in Italy overlooking endless hills. This was my third time visiting Robert Renzoni, so I was looking forward to their wines and their Tuscan villa. For our wines, we were greeted with the 2017 Pinot Grigio that was paired with a Burrata Alla Trapanese; cheese spread over ciabatta and topped with tomato trapanese, finished with a drizzle of balsamic vinegar. Our second wine was the 2016 Rose and we finished with the 2016 Sangiovese. Open daily 10am-5pm.
This was my first time visiting this Cougar Winery so it was definitely on my list for the Barrel tasting. Cougar Winery is also located on the Deportola Trail and specializes in Italian varietals. We were greeted with the NV Cougar Bubbly that was accompanied by their Famous Sangio's Spicy Italian Sausage Meatballs, served with a baguette. Our second wine 2015 Cask Sangiovese and finished with the 2013 Full Monte from the Barrel. Open daily 11am-6pm
Our third stop was another winery I have visited before, but not since last year. Masia de la Vinya Winery is so darling and all I could remember was how cute the floors and walls were. This winery is also located on the Deportola Trail next door to Cougar Winery so it's another location that sits on its own hilltop.
Were greeted with the most delicious unfiltered 2017 Chardonnay was that passed through oak barrel. It was one of my favorites and it reminded me of a tropical juice I used to drink as a child. I can't wait for this bottle! Our final sample was the 2015 oaked Chardonnay that was paired with my favorite food of the weekend, roasted butternut squash, parmesan grits and chardonnay poached shrimp. Open daily 11am-5pm.
Hart winery is a small boutique winery at the entrance of Temecula Valley. Hart Winery was one of the original wine pioneers of Temecula Valley and have been through the ups and downs of the Temecula AVA. Nestled on its own little hill next door to Callaway Winery, is this small family owned winery. Pouring the barrel sample was Mike Hart. Mike is one of the winemakers at Volcan Winery in Julian, alongside his brother Jim Hart. They both assist their father, Joe Hart with winemaking at Hart Winery. Our first sample was the 2017 Sauvignon Blanc. Our next wine was the 2015 Barbera that was paired with Quattro Formaggi Truffle Mac and Cheese. We finished with the barrel sample with my friend Mike Hart, which was the 2016 Barbera , Los Suenos Vineyard. Open daily 9am-5pm.
Our final stop was Lorenzi Winery and one of my favorites. I come here often, so I decided to visit them last. Lorenzi Winery is a boutique winery that is family owned and operated focusing on French blends. Located off the beaten path near Rancho California Road, this small winery will make you feel at home. We were greeted with a tasting of Sparkling wine, well, because they're my friends. However, the first tasting was the 2012 Zinfandel. We finished with the barrel tasting, which was a blend of Syrah, Merlot, Zinfandel, Cabernet Sauvignon and Cab Franc. Their wines were paired with fine cheeses sand meats. Click Here to read my article on Lorenzi Winery and to see more pictures of this winery.
Besides Temecula Wine month (September), this is another one of my favorite events that occurs every January. It's a time where you can taste barrel samples and some unreleased wines. Most wineries will have the winemaker present pouring for you, which doesn't get any better than that. In addition, this is the time when you get to meet some other family members that are behind the scenes of the winery. It's a great event filled with fun and running around, but I suggest you bring a designated Driver because theres a lot of drinking happening. I know I did…Insert wink! A special thank you to Temecula Wine Growers for having me on this event and for sponsoring this post. Thank you for taking the time for reading this article and I hope that you're able to attend one of these events in the future. Click HERE for a list of other event this year.
***** In collaboration with Temecula Valley Wine Growers.
Below are other articles on Temecula Wine Country!