Things to do in Holbox Mexico
Holbox is an island on the north of Mexico's Yucatán Peninsula, about a three hour drive from Cancun to the small town of chiquila, where a 20 minute ferry ride across the lagoon, will get you to this unspoiled virgin island. This car free island measures about 26 miles long and one mile wide, and in spite of Holbox' natural beauty and unspoiled beaches, there's other reasons people are drawn to this island.
Isla Holbox is separated from the mainland coast of Mexico by a shallow lagoon which gives sanctuary to thousands of flamingos and other exotic birds and creatures. However, locals have long been in the know about this laid back virgin island and have kept it a secret. In spite of Holbox' natural beauty, inaccessibility has left it unspoiled by mass tourism for years.
Although the secret is out, this island has remained as one of the most beautiful beaches in Mexico.
Tips
Arranging your taxi prior to getting to your hotel is ideal. Otherwise, you'll be standing in line for a while waiting for your golf taxi to your hotel.

Bring mosquito repellent along with sunscreen!

Bring cash, as most of the island does not use credit card machines. I think there only one ATM machine on the entire island.

Wifi is WEAK on the island, so don't count on being on your phone.

Ferry rides are every 30 minutes from the town of chiquila, and they run until about 8pm. After 8pm, fisherman will stay around to offer boat rides to the island on their own boats.

Getting to chiquila on a private taxi will be better than taking the bus! Pay the extra cash for the private ride, you'll get there quicker.
If you visit between the months of June and early September, you can have the opportunity to swim with the largest shark in the ocean, the whale shark. This is an amazing experience, but you need to make sure you get a good guide because some tourism companies are not following the rules.The boat tour companies in Holbox have a system when it come to whale shark searching and swimming and this is to take care of the whale sharks and each other. But this is an experience that is incredible and fast. Due to the amount of people wanting to swim with whale sharks, each boat has to take a turn and send to swimmers. You get about three minutes of swim time and then the whale shark disappear. And depending on the time of year you go, you'll get more whale sharks to swim with. We went in June and it was the beginning of whale shark season. We saw two in one day and it was the most in three days. The end of whale shark season is approximately the second week of September where the whale sharks merge to warmer waters for the winter. The cost was $90 per person and it was non refundable. The trip does not guarantee you that you'll see a whale shark, so no refunds!
Bike to the Holbox Letters
In Mexico, each city and State will have large colorful letters as public art displays. This has almost become a symbol for Mexico, as you enter every perspective city. In Holbox, they're located by the beach. However, the L was missing, but I'm sure it's already replaced. These letters are picture for your Intagram! Our bike rental was included with our resort fee.
Holbox Hammocks on the Beach
Another perfect place to take a picture, if you can.... are the Holbox hammocks with the letters at the top. The hammocks do belong to a hotel so you may or may not be able to snap a picture! The hammocks are at the north part of the island. Just bike and you'll find them.
Kayak/ Paddle Board
The beaches on Holbox are very calm and quiet. The island is located on the gulf of Mexico, so the water is warm and free from large waves, making it ideal for kayaking and paddle boarding. You can paddle board and kayak pretty far out, but you will get hot and tired. We got our kayak and paddle rentals through our hotel resort as part of the all inclusive fee.
Cabo Catoche and Snorkle
Cabo Catoche is where the Gulf of Mexico meets the Caribean Sea. Its a small island located near Holbox that is not habitable by people. However, some of the small boat tours stop here to prepare their ceviche for their guests before heading back to Holbox. Our boat driver caught the fish while we were snorkeling and he prepared the fresh ceviche once were done.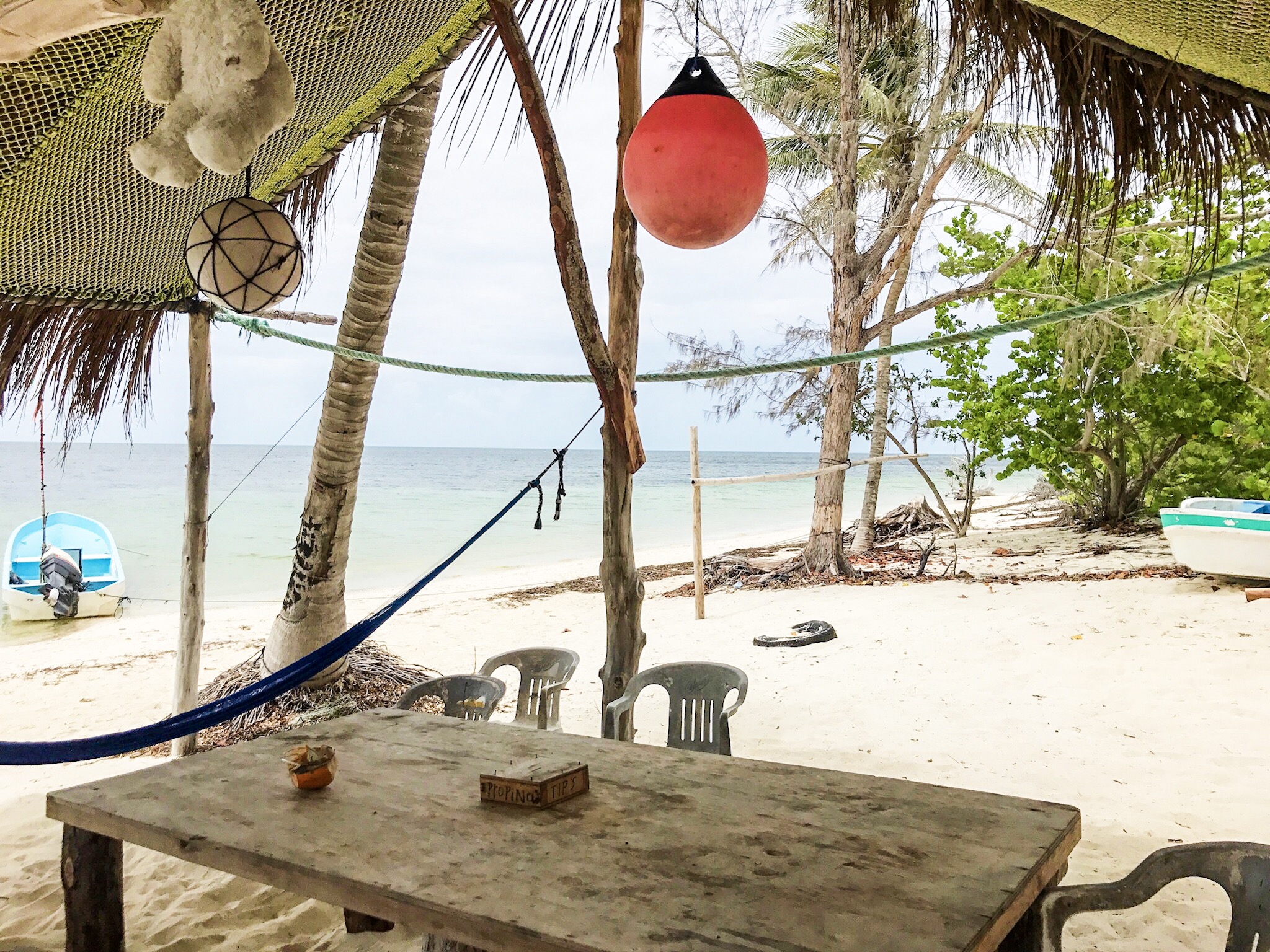 Get Caught in the Golden Cownose Sting Ray Migration
In the months of May and beginning of June, the Golden Cownose Sting Ray migrate to warmer waters, ending up in the gulf of Mexico. If your lucky, you can see them in the thousands out in the ocean. We were there in June so we got a sight of a few hundred little ones near the shore that may have been lost. You can see a little bit of this in the video below!
Bioluminescence at Punta de Coco's
The bioluminescence can be seen July through January and it has to be only on night and without moonlight. The bioluminescent plancton are tiny organisms that like fireflies emit their own blue light on the shores of the waters at the waves crash. This beautiful sight can be seen around the world, but Holbox is one of them.
Relax and enjoy your hotel
During our stay, we stayed at Villa HM Palapas Del Mar. Its one of two properties in Holbox and directly across from the beach. This hotel does have its own beach, but you have to cross the small dirt road to get to it. No big deal. The hotel also had its own private pool in each room, with a few facing the ocean. Our hotel was a small resort with an all inclusive package that included the bike rental, kayak and paddle board.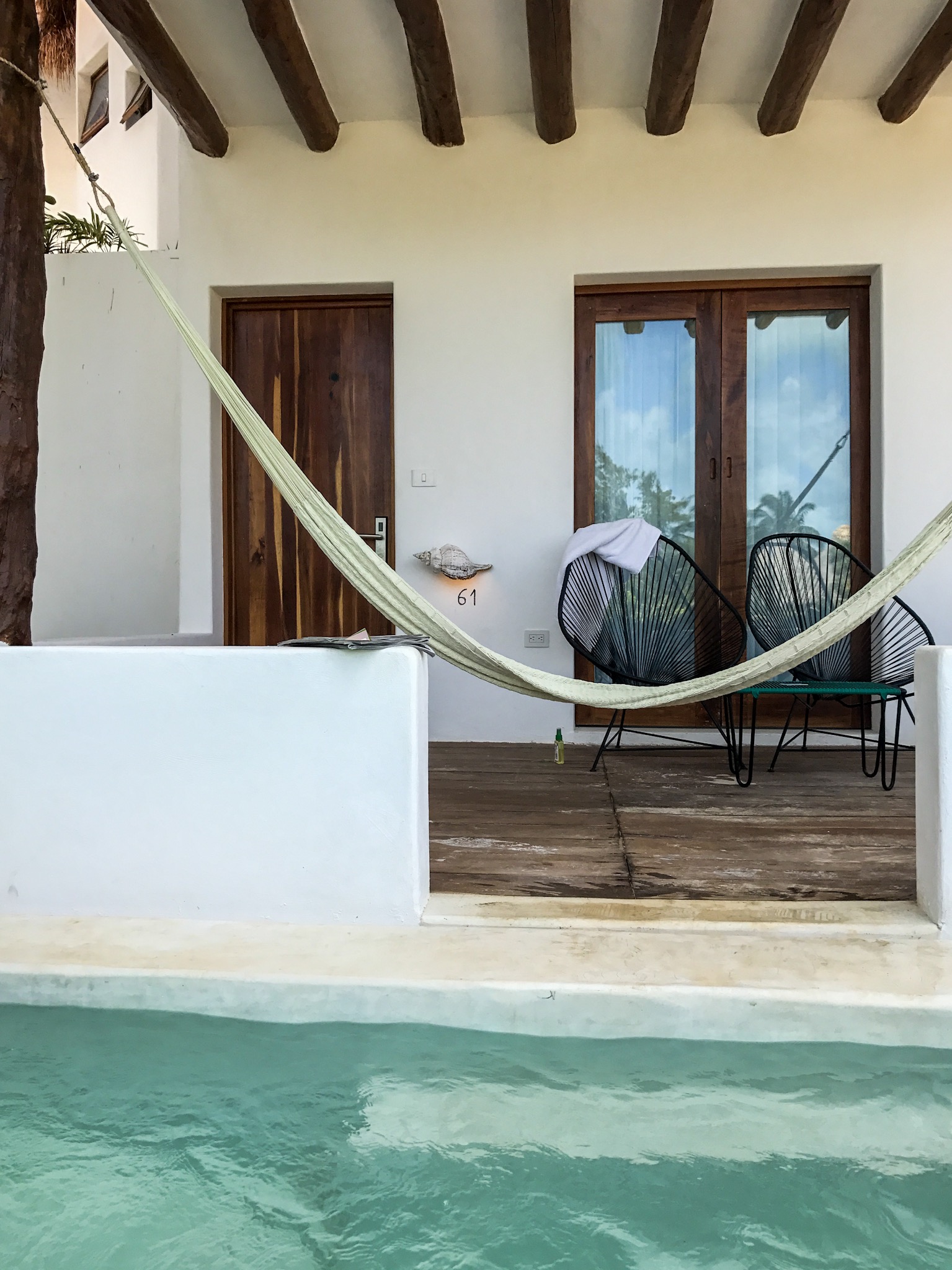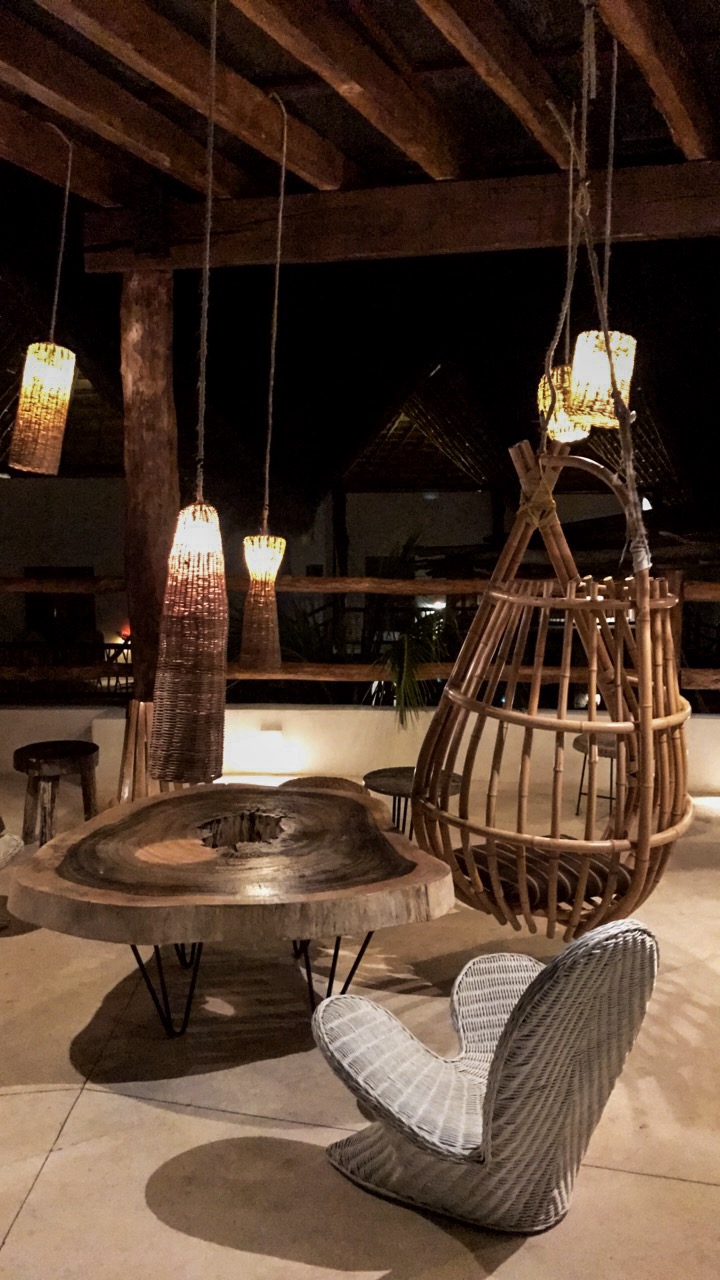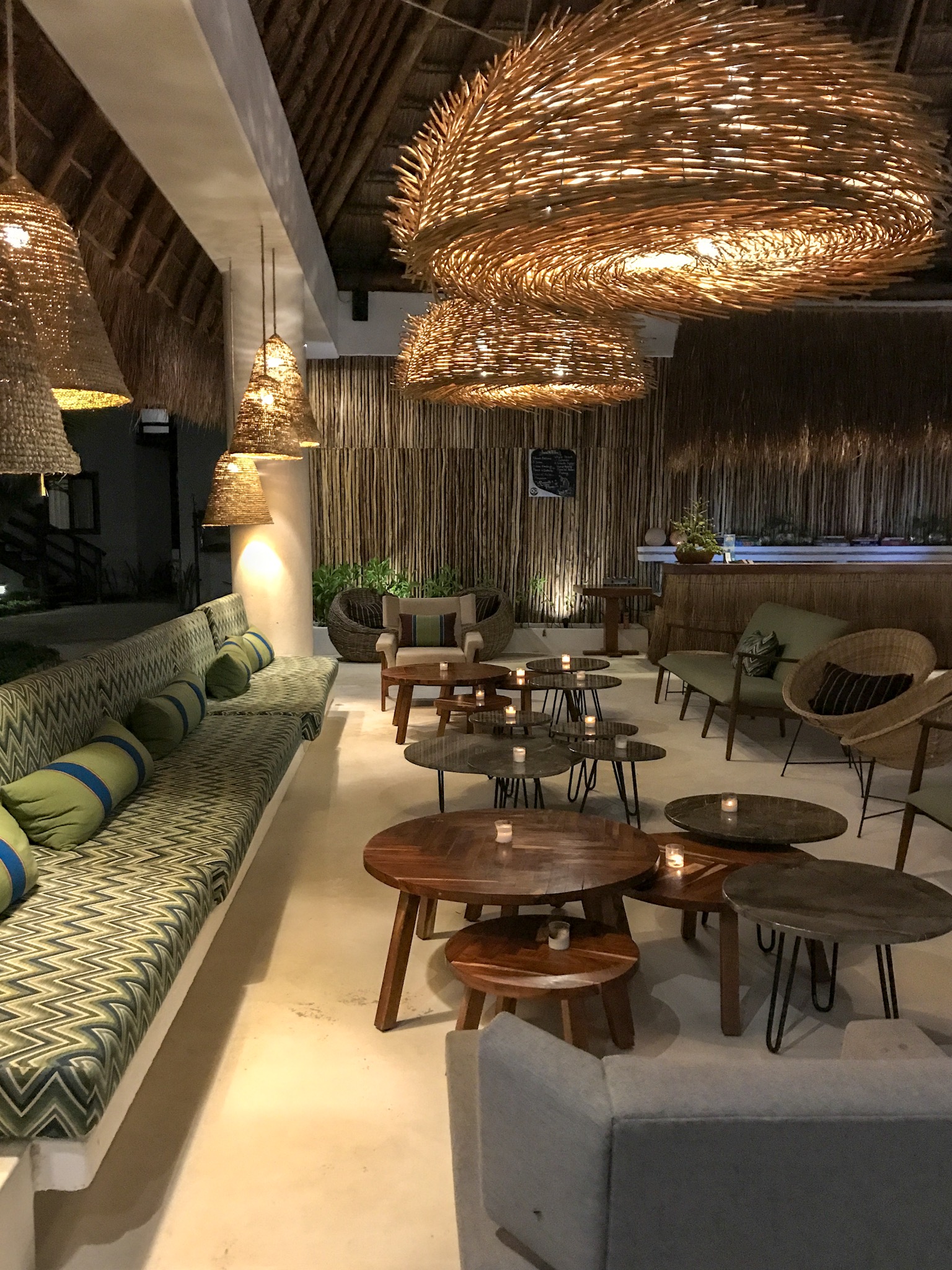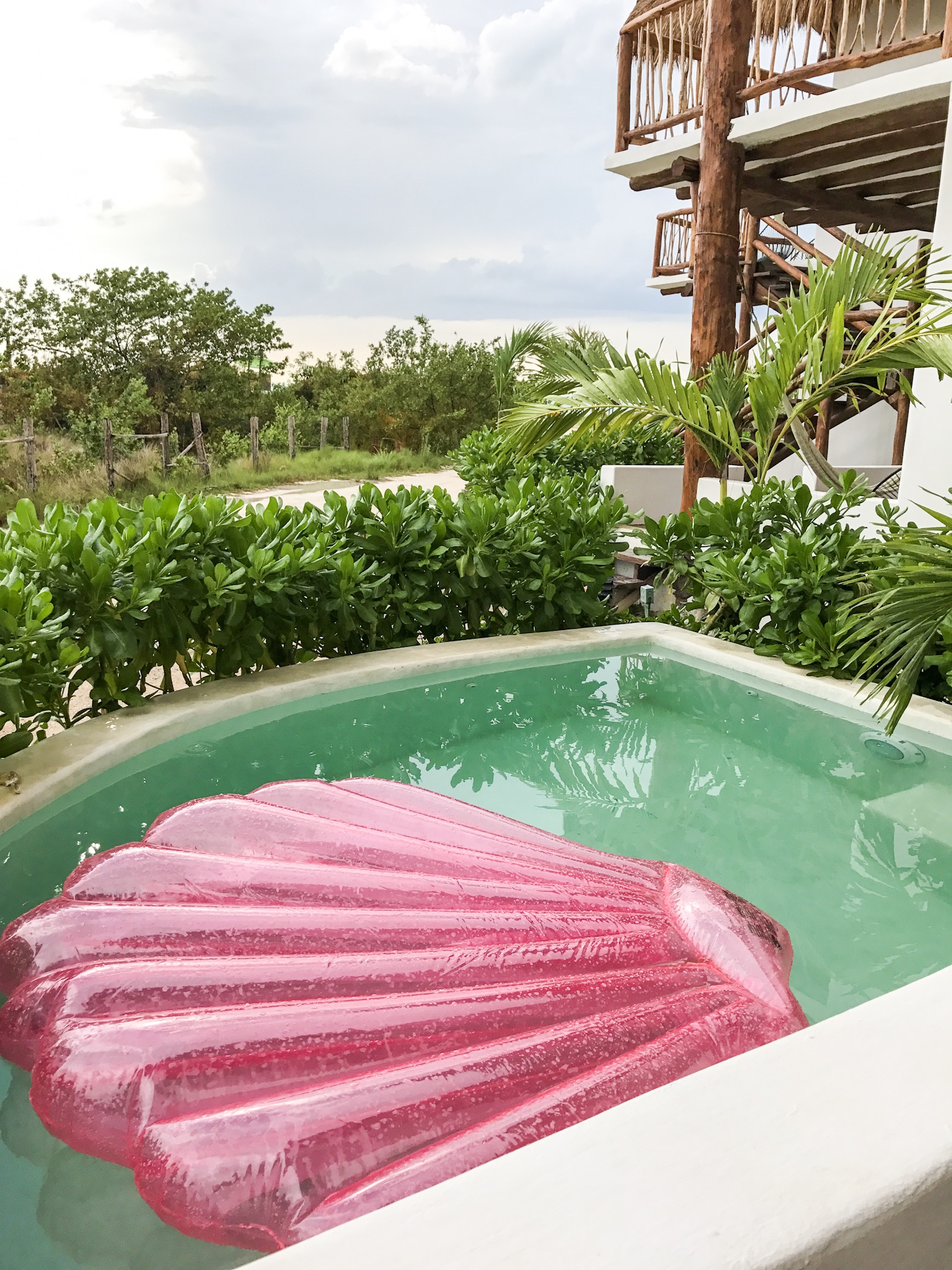 Simply.....Holbox is about a place to relax and enjoy the beach your hotel. The island is still free from mass tourism, so take advantage and enjoy the unspoiled beauty Holbox has!