Best Kayaking Tour in Arizona | U.S
This September I got to visit Scottsdale, Arizona for the first time and had the best time with Arizona Outback Adventures and Experience Scottsdale. We went on a private guided tour of the lower Salt River, which is located approximately 40 minutes from Scottsdale Arizona, and is one of the most scenic and relaxing waterscapes to float in Arizona.
Love this video? CLICK HERE to view my YouTube video of my Helicopter ride through secret canyons in Sedona! Or CLICK HERE to view a tour of Scottsdale Arizona.
Although this outdoor adventure is calm and relaxing, it does have some mild river rafting that even beginners can handle. The river is surrounded by unobstructed views of four mountain ranges in the Sonoran desert and beautiful wild life that will make you feel one with nature. I never thought that I could float down the lower Salt River in Arizona in a Kayak and have the most thrilling outdoor adventure ever!
Before you go on your next kayaking trip in Arizona, there's a few details you need to know:
Although this is a class 1 river, there are several class 2 rapids on this route. They're not dangerous or difficult, but super fun! If you listen to your guide, you'll have no problem. If you fall, it's ok, you just float. (Someone from our group fell and it was okay!) If your curious on what this looks like, make sure to watch my YouTube video at the end of this blog post.

Bring a water proof camera! However, your guide will have dry bags for your belongings so they don't get wet.

Wear quick drying shorts, swimwear and water shoes.

Bring a hat and sunscreen. It gets hot!

Bring water, snacks and WINE! Yes, BYOB and bring your own refreshment. I didn't know about this, so I would have planned accordingly. My advice is to purchase a canteen and put some delicious Rose or white wine in it. There is some down time in the middle of the trip to relax, swim and have a sip a wine.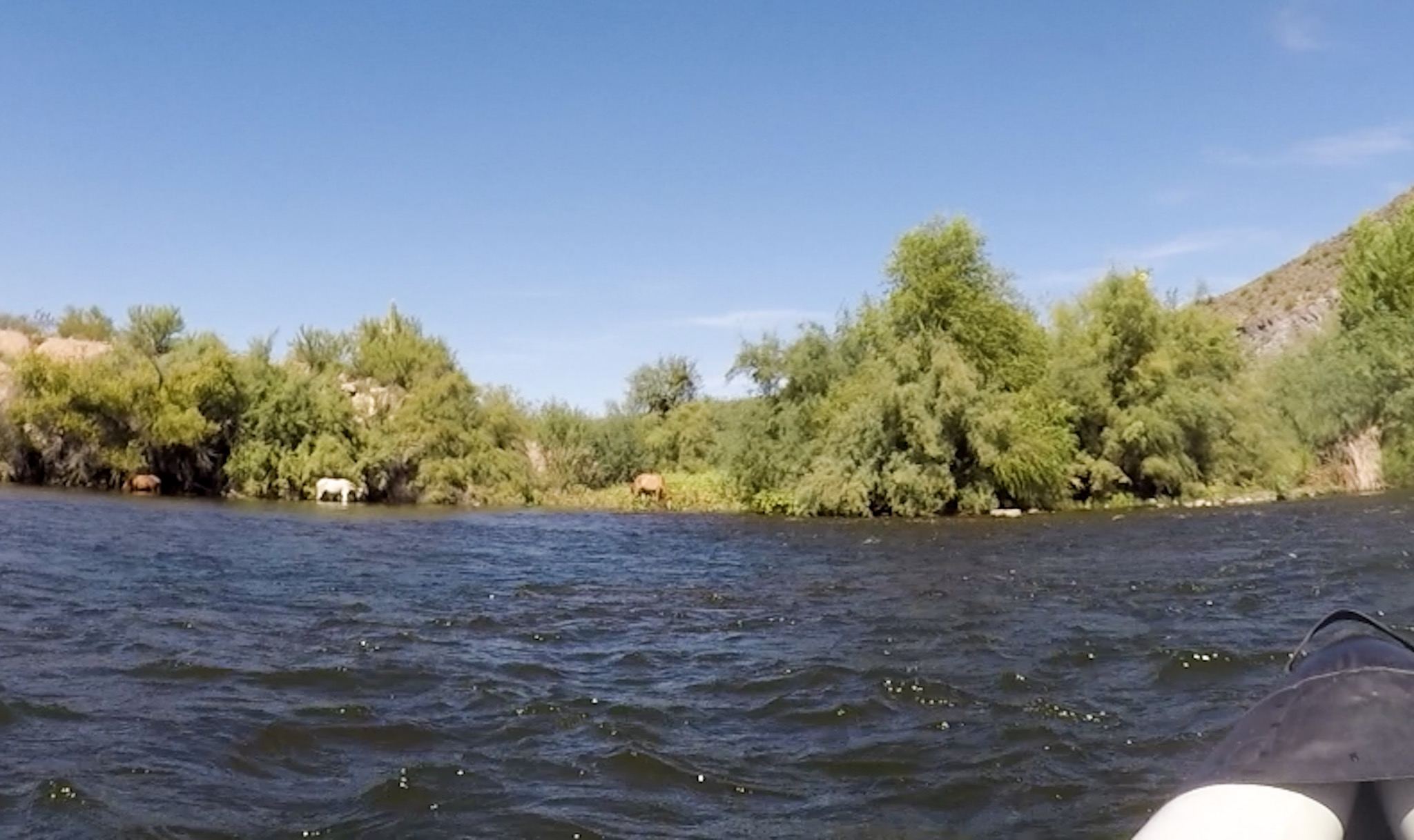 If you noticed in the pictures above or if you watched the YouTube Video at the beginning of this blog, you probably saw that the kayaking was nice and relaxing with the exception of our minor crash. The river was easy to manouver and not too challenging, but I recommend one kayak for beginners.
Regardless of whether you're a first timer on a kayak or experienced, Arizona Outback Adventures provides the best and safest tour. They are very cautious and take their time in guiding you through the river. Both our guides were well informed about nature and they knew everything about cactus' and the surrounding wild life.
If you're planning your next trip to Scottsdale Arizona or any surrounding areas, make sure to book your next outdoor adventure with Arizona Outback Adventures. They also offer guided outdoor adventures to Havasupai, hiking trails, backpacking, mountain biking, stand up paddle boarding, floating trips and much more! Have you been kayaking in the lower Salt River? Or do you know of any other cool spots to kayak in Arizona? I would love to hear about it in the comments below!
With Love | Erika Beach
***** Sponsored by Experience Scottsdale and Arizona Outback Adventures. Thank you for this awesome experience!!
***** Photography and video by Erika Beach