Best Alcatraz Tour in San Francisco | A Parc 55 Hilton Hotel Weekend | U.S
To many, San Francisco isn't just about a collection of bridges, crocked streets and buildings with unique architecture. To some, it goes beyond that, as it can be a place of fascinating history attracting many to this city and beyond its waters to the island of Alcatraz. Celebrating the 55th anniversary of Alcatraz Island's closure as a federal prison, Parc 55 and the Hilton San Francisco Union Square, are exhibiting showcases of the famous Alcatraz prison. Here are some fun ideas of how you can enjoy an Alcatraz inspired weekend and experience "Life on the Rock", at the Parc 55 Hotel in San Francisco.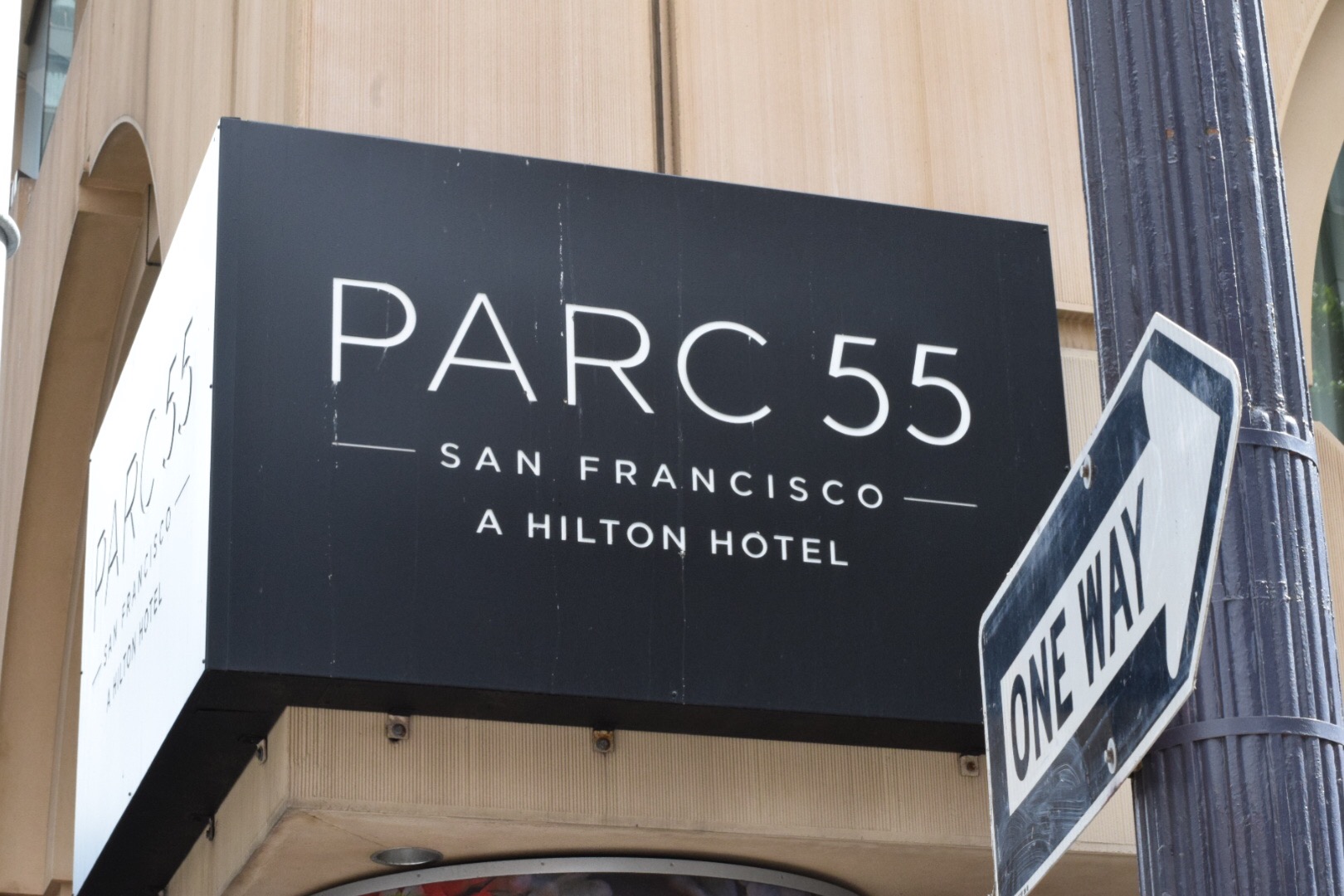 Throughout both properties until June 28, 2018, you can take a look inside at some authentic artifacts, interactive displays and behind the scenes of some unseen parts of the island. You can experience untold stories and learn history about the island and prison.
The Parc 55 Hotel is conveniently located close to Union Square, shopping and the Cable car pick up station. The rooms are all spacious and comfortable with spectacular views of the city. Some of the corner rooms are perfectly located with views that go beyond the city from every window. If you look closely, you can see the Golden Gate Bridge from one of the windows.
Our fun weekend started with a nice bottle of Cabernet Sauvignon from Canyon Ridge with a pairing of house select cheeses. We enjoyed these beautiful welcome wine and cheeses as we got ready for our welcome reception and dinner.
At Cable 55 Restaurant that is located at The Parc 55 Hotel, Alcatraz inspired cocktails and drinks were available, such as Warden's Welcome, The Prisoner Wines, The Jail Bird Sandwich or The Impossible Escape Burger, with many more on the menu.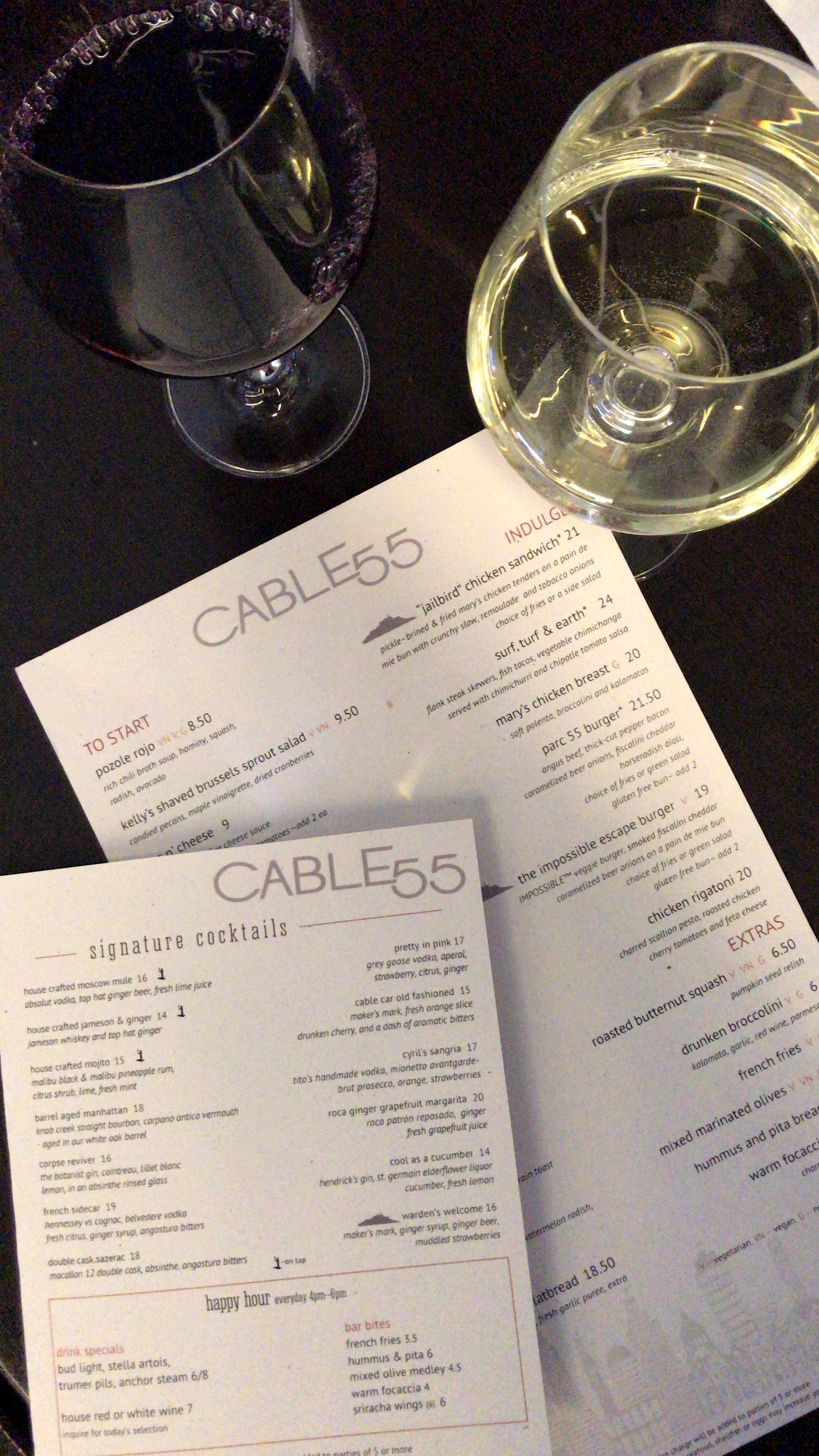 Dinner followed at Urban Tavern, which is located at the Hilton San Francisco Union Square. Urban Tavern offers cuisine dishes, in addition to 50 wines within 50 miles, providing a really decent wine list for wine by the glass, half bottle or full bottle.
After dinner, we headed over to Cityscape San Francisco, a rooftop bar overlooking the city on the 46th floor of the Hilton. The bar offers an extensive cocktail and wine list with a 360 degree view of the entire city. The views are breathtaking and one not to miss when in San Francisco.
All three of these locations are located at the Parc 55 hotel and the Hilton San Francisco Union Square, which are conveniently located one block from each other in the heart of the city.
If your a history lover then visiting Alcatraz is a must on your next San Francisco trip! One fun option to take to Alcatraz is riding the Electric Cable Car that runs off the tracks. This cable car will pick you up at a location and take you on a little journey through the city. On your way to Pier 33, you will see famous streets and views of the city, all while hearing that famous San Francisco bell in your cable car. The cable car will drop you off at Pier 33 where the Alcatraz Cruise terminal is located.
A long line does form so make sure you arrive 30 minutes prior to your departure time. The cruise over to Alcatraz island is peaceful taking approximately 30 minutes. The best views going over to Alcatraz can be seen on the front of the boat on the second level. This spot of the boat provides unobstructed views of Alcatraz, giving the perfect photo opportunity.
Alcatraz Island is a beautiful place to visit with so much to see and a lot history. As many of you may know, Alcatraz was a military prison and one of the most notorious federal penitentiaries in U.S history. Visiting Alcatraz was a super fun experience and beautiful in a weird way. I took so many pictures that I had to split this post into two parts. Thank you for reading this and keep your eyes out for Part 2, which is coming up NEXT!!!!!